New App for Tour Operators and Agencies that allows travelers to have the whole trip accessible on mobile.
How it works?
Create
Create a new trip on Weellgo Platform
Find how!
Download
Your customer can download the app and the trip with lastname and trip id
Voucher and Documents
Documents attached will be automatically downloaded in the app
Updates
Automatic updates on any trip changes
Departure
Your customer can travel and use the App to have a better travel experience
Notification
Stay in touch sending unlimited notifications to your customers
Prices
We believe in Flexible Costing.
Timeline
Step by step all the services on your smartphone
The timeline show all the itinerary steps and booked services organized day by day. A simple tap on a step or service show you all the usefull details. Through the timeline the customer have also access to travel information, agency information and documents.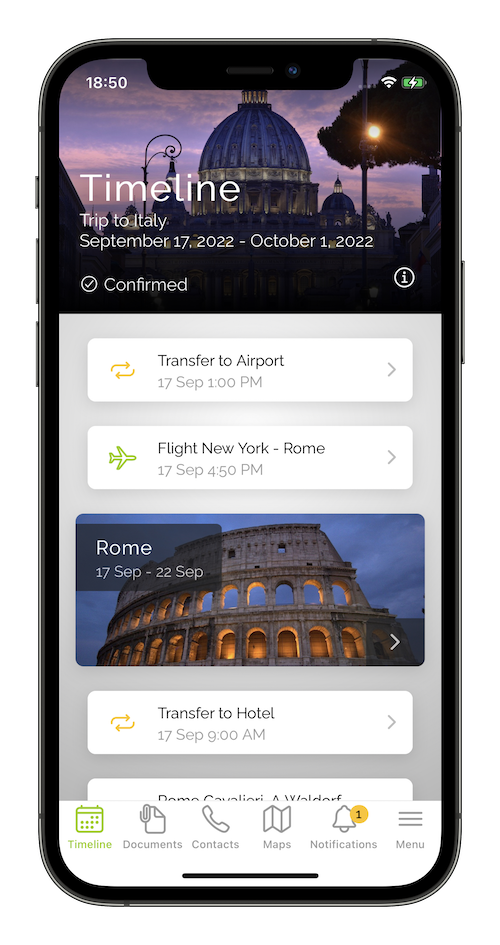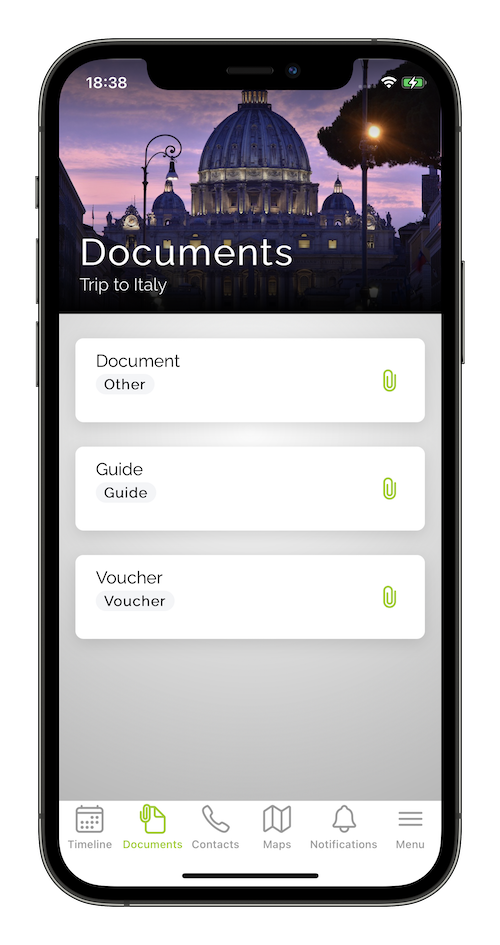 DOCUMENTS AND TRAVEL BOOK
Voucher, Tickets, Guides, Road Map...
All Trip documents are downloaded in the app. Your customers can forget the paper and all the problems having the documents always on their mobile. It's possible to attach documents to trip, step or to individual services to make it even easier find and use them.
OFFLINE MAPS!
With many points of interest
Maps available for each destination, with useful points of interest such as: tourist attractions, bars, restaurants, train stations… All services can be included in the map to make the trip even easier and customized. The maps can be downloaded for offline use, this is a practical and useful tool for your customers travelling around the world. The traveler can also save or add his favorite places on the map to personalize his experience.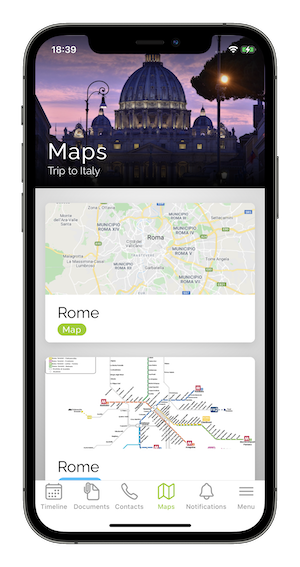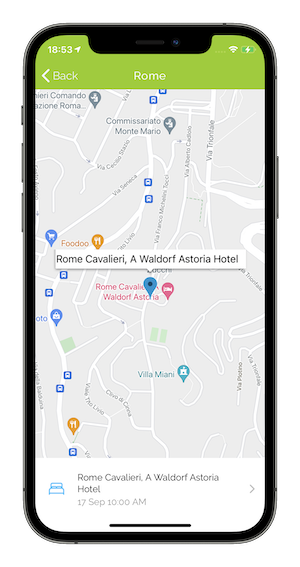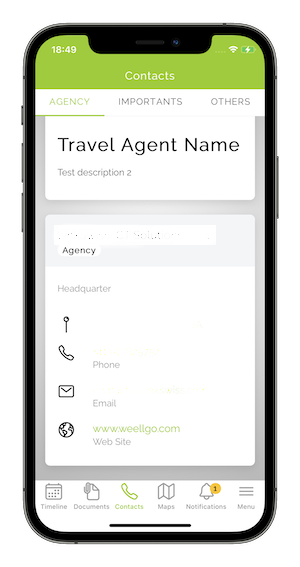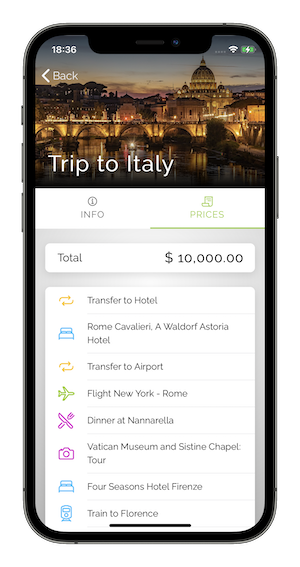 TRAVEL AGENT INFO AND CONTACTS
All your customer needs
A Travel Agent dedicated screen with logo, description and useful contacts. You can also add useful contacts to all the services of the trip and any assistance contact. With this feature your customers have an easy way to retrieve all informations when needed.
Notifications
Stay in touch
Send unlimited notifications to your customers, for example, changes in flight schedules or shifts. You can also send hotel upgrades or suggestions for optional excursions. Notifications are sent directly to all devices associated within a trip and will be displayed with either open or closed App.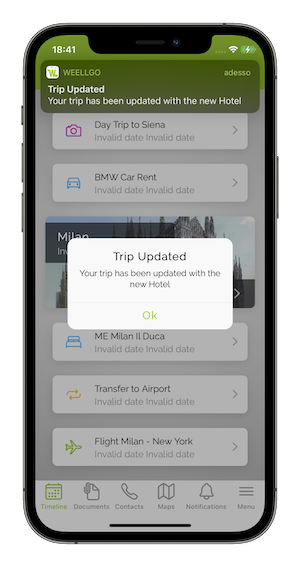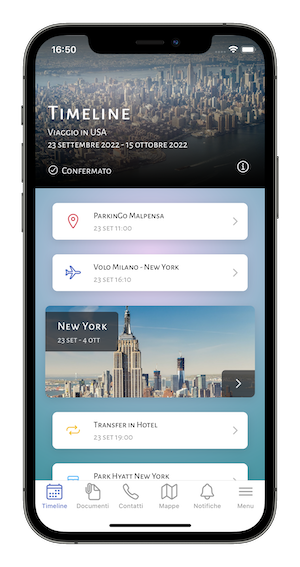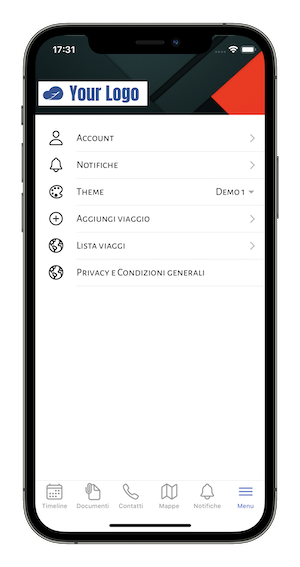 Custom App? Sure!
Published on stores with your Company name!
Custom icon, logo, colours and splash screen
You can change any text in the app
Multilanguage
All you need to make the App a tool of your business and adapt it perfectly to your brand image.
EVEN MORE!
Tons of features already presents and much more on development
We are already working on new features that further enhance the customer's travel experience and help you to generate new revenues in the most simple and effective way.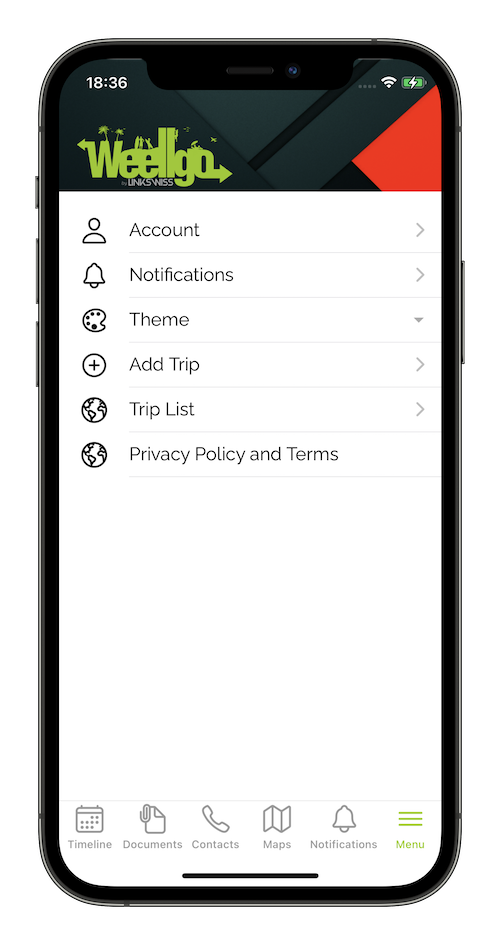 How to manage your trips?
Dashboard
Admin panel for manage trips and notifications
api
Api ready to integrate Weellgo in your system and manage all trips without efforts
Contact us for more informations and updates